Hey guys!
Here is an update on what we've been up to...
Dave: Dave is busy at work and getting ready to test for
MSgt
. Wish us luck! He has been studying hard and he so
totally deserves it... He tests in March so we have a few
weeks yet of studying.
Elena: I have been busy with work, school, and life in
general. I am in the last week of a very "writing
intensive" class so I am thankful... I have been
scrapbooking
and writing articles and things for my sites too... Here is
one of my latest layouts:
Jimmy: Jimmy has been doing great in school... He just
won 3rd place for the 5
th
Grade in the school science fair.
He is a little freaked out that he is going to have to present
his project at District. I know he will do a GREAT job. He
has also been perfecting his
yoyo
tricks - he's pretty good!
Derek: Derek is testing for Yellow Belt in
Kempo
this
weekend. I am so proud of him! He can't wait to get his
new belt. I have to get him a belt rack for his room -
just like Jimmy... Both boys are going to take a break
from
Kempo
to do baseball...
And for our BIG family news...
We booked our Vacation for Spring Break: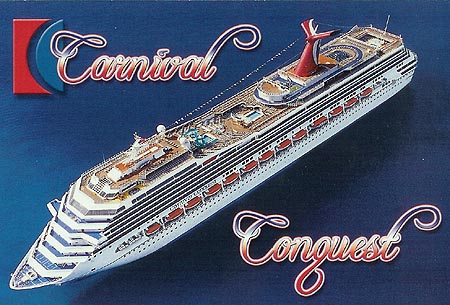 We booked a one week cruise on the Carnival Conquest
out of Galveston. The kids are super excited. We cruise
from Galveston to
Montego
Bay, Grand Cayman, and
Cozumel. This is the same cruise (different boat) that
Dave and I took for our Honeymoon. So - now the kids
get to see it...
We can't wait!